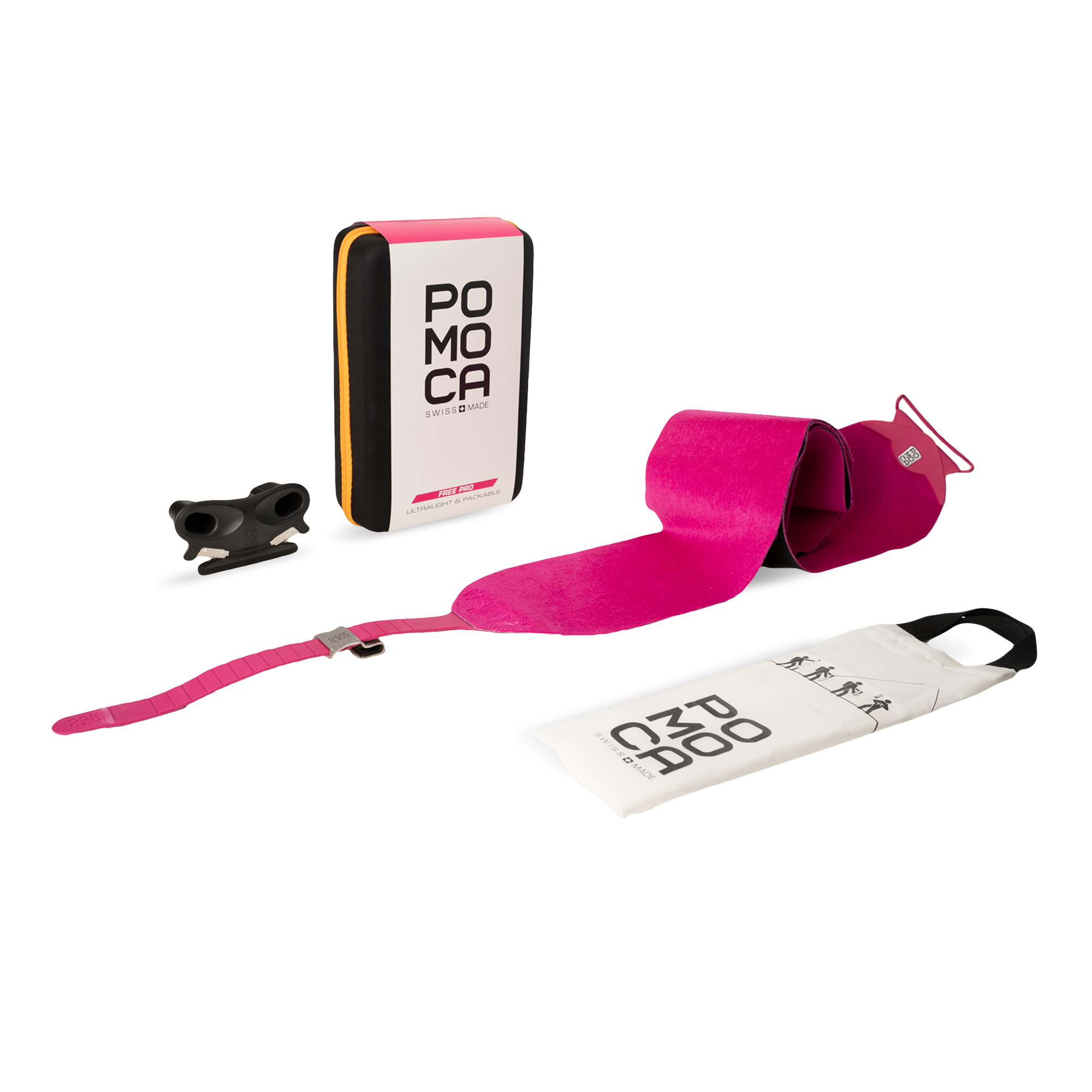 FREE PRO 2.0
THE SKIN
Ultralight & Packable
Developed especially for freeriders, this skin makes no compromise: ultralight, excellent grip, and very good glide. Once on the top, the Free Pro 2.0 is so packable that you can almost carry it in your pocket!

---
Glide

200 kcal/h

Grip 46 g/cm2
Weight 1,000.000 g/m2
---
216 g / skin
(123 mm x 180 cm)
---
THE ATTACHMENT SYSTEM
Ready2climb Your skin ready in 2 minutes
The POMOCA R&D department works hard to make your life easier. Preparing a self-adhesive skin for skis can take a long time and requires specific knowledge. POMOCA has developped the new universal, light, and easy-to-apply ready2climb set. The ready2climb skin can be cut to a specific ski in just two minutes without any special tools. The adjustable loop can be fixed to any type of ski. For this system, POMOCA offers a complete list of skins on the market, so you can find the self-adhesive skin best suited to your needs.
---
FREE PRO 2.0
| | | |
| --- | --- | --- |
| mm | | Ready2climb |
| 123 | XS | 10-0002812312 / XS |
| | S | 10-0002812312 / S |
| | M | 10-0002812312 / M |
| | L | 10-0002812312 / L |
| | XL | 10-0002812312 / XL |
| 140 | XS | 10-0002814012 / XS |
| | S | 10-0002814012 / S |
| | M | 10-0002814012 / M |
| | L | 10-0002814012 / L |
| | XL | 10-0002814012 / XL |